In Memory
Ken McKean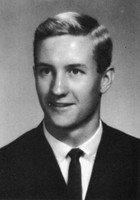 I was - and still am - shocked to learn of Ken's passing. We were close friends during the 70s and 80s but fell out of touch over the last 20 years.
Ken and I met in 1974 when we were both grad students sharing an apartment stairwell in Durham, NC. We found we had much in common and met often to play tennis, watch football, or just enjoy a meal or a beer. We got together regularly while Ken was in MBA school at UNC, and continued to see each other occasionally in NC or in CA after he moved back to the Bay Area. We particularly enjoyed ski trips to Tahoe.
My wife Jerri and I stayed with Ken and Chris at their San Leandro house during our honeymoon trip to SF in 1982, and visited again five years later when they lived in Piedmont and we both had young children. We exchanged cards for several years but gradually fell out of touch.
It makes it harder for me to realize Ken's passing, since the last time we saw one another was a happy occasion when both of us were much younger. I tried contacting Ken in 2012, when we went to CA for our 30th anniversary. Unfortunately we were not able to connect; perhaps he was already ill at that time. Ken and I shared important passages in both our lives, and I miss him.
Larry Meisner